Oversized Air Conditioners vs. Central Air Conditioning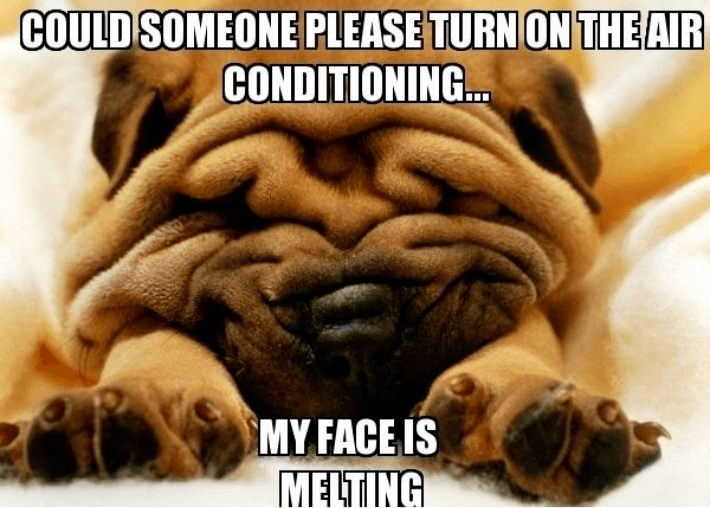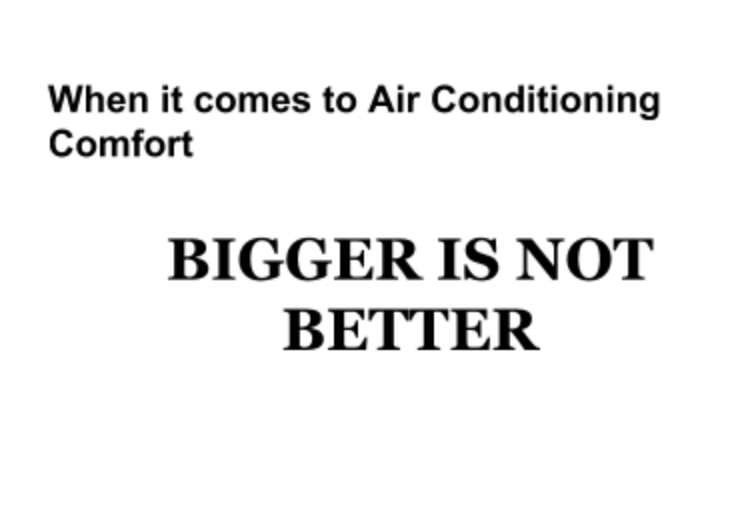 An oversized air conditioner doesn't mean cool comfort for you. Instead, it means higher electrical bills and a home that's not comfortable to be in!
Oversized Air Conditioners run up your utility bill. An oversized unit short-cycles (runs for shorter periods of time than in should) , and uses more electricity than a properly sized unit. Air conditioners operate more efficiently the longer they run continuously, and should be sized so they don't turn on and off frequently on hot days.
An Oversized air conditioner can cover up other problems. Ducts that are leaky or have constricted air flows, improper refrigerant charge, and dirty coils and filters can make an AC work much harder than it should. An oversized unit may be able to put out the cold air even when these problems exist. But these conditions can mean costly breakdowns and the spread of pollutants into your living space.
Oversized air conditioners cost more to buy and don't last as long. Don't pay extra for an air conditioner that's too big for your house. The larger system will cost you hundreds of dollars more and give you fewer years of service…
An Oversized air conditioner are noisy. The bigger the AC the faster the air rushes through the ducts and grilles. often the grilles are not designed for the larger unit, so the noise will get louder as the air tries to force its way through the small openings.
There's no happy medium with an oversized unit. It delivers noisy blasts of air, then shuts off. On hot days it will do this repeatedly, making the home more and more uncomfortable (specially the upstairs) as the day goes on.
Advice for Buying Central Air Conditioning for your Home
To ensure that your new air conditioner is the right size for your home, we will perform a detailed load calculation. This calculation determines the capacity of the equipment needed and the correct distribution of air to each room. The Air Conditioning Contractors of America (ACCA) recommend a Manual J load calculation.
Look for a unit with quiet operation.
Our technicians are certified by a trade organization, called North American Technician Excellence (NATE).
What about your ductwork? If you're replacing an existing central air conditioner, then your house will already have a system of ducts in place. However, we'll still check out the ducts to make sure they are in good condition. Be sure to tell the us about any problems you are having with airflow or uneven cooling with your existing system, since this may be a sign of poorly designed ductwork. If you are adding a new air conditioner, you may be able to connect it to the ductwork for your central heating system, although it may need some modifications. If your home has no ductwork, you might want to consider a ductless mini-split system. (call for details)
Don't wait until it's broken. Know when it is time to replace your A/C. Don't wait until you're desperate to cool your house down in the middle of the hot summer. If your system is 15 years to 20 years old, you could see it start failing more frequently.
Plan ahead and buy during non-peak season. If you plan ahead and purchase your system during non-peak season your HVAC work will be easier to schedule and you can more than likely receive off-peak season pricing.
When replacing an older model air conditioning unit (15 yrs or older) replace all of the components not just some. All of the components of a central air conditioning system are designed, manufactured and calibrated to work together for optimum performance and efficiency. By replacing only some of the air conditioning components, your system will not work at peak performance or its highest efficiency.
Annual maintenance agreements are a good value. This involves having the air conditioning checked in the spring and the heating checked in the fall. A regular check-up can help prevent repair or safety problems and will help to extend the life of your system. It will also help keep your utility bills down by insuring your system is working at peak performance.
Be aware of any Utility rebates or specials we're offering. Check out our specials or give us a call at 303-922-6289.
Gustafson Heating & Air Conditioning Inc.
March 28, 2018
2022/07/02