Different Types of Air-Source Heat Pumps
Ductless or Ducted
Ductless applications require minimal construction as only a three-inch hole through the wall is required to connect the outdoor condenser and the indoor heads. Ductless systems are often installed in additions.
Ducted systems simply use ductwork. If your home already has a ventilation system or the home will be a new construction, you might consider this system. Most heat pumps are split-systems—that is, they have one coil inside and a condenser outside. Supply and return ducts connect to the indoor central fan.
Mini-split heat pump
If your home doesn't have air ducts to distribute heat, no worries. You could use a special kind of heat pump called a mini-split heat pump. It connects an outdoor air-source unit to multiple indoor units. These ductless mini-split systems are useful for retrofitting a home with a heat pump system because their locations outside and inside the home are flexible.
Another plus is that the installation only requires a 3-inch (7.6 centimeter) conduit to come through the wall, which is pretty unobtrusive. They're also versatile. The indoor unit can be installed in walls, ceilings or on the floor, and they're small to boot. One disadvantage, though, is that the installation must also take up some indoor space to function. They also won't move as much air as larger heat pumps, so are best for small living and commercial spaces.
In a typical air-source heat pump, there's the need for a backup heat to supply temporary heat when the system switches into reverse to defrost the coils. This backup heat prevents the system from blowing cold air through the registers while the coils defrost.
A more recent addition is the cold climate heat pump, so named because it can efficiently handle colder weather than most other designs — even below 0 degrees Fahrenheit (-18 degrees Celsius). The cold climate heat pump detects the minimum amount of energy needed to provide the desired level of heating or cooling and adjusts its output up or down, so it never wastes energy. Even special heat pumps have limitations.
Multi-Zone vs. Single-Zone
Single-zone systems are designed for a single room with one outdoor condenser matched to one indoor head.
Multi-zone installations can have two or more indoor coils connected to one outdoor condenser. Multi-zone indoor coils vary by size and style, and each creates its own "zone" of comfort, allowing you to heat or cool individual rooms, hallways, and open spaces. This distinction may also be referred to as "multi-head vs. single-head" and "multi-port vs. single-port."
How They Work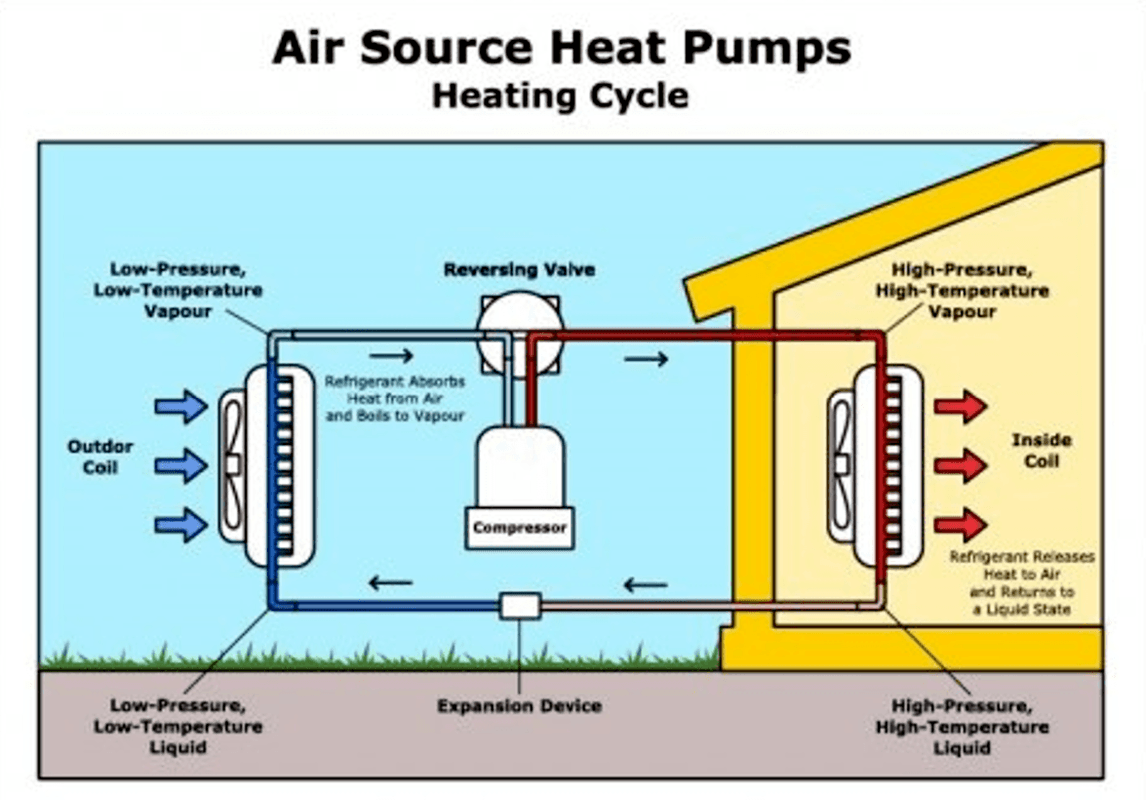 A heat pump's refrigeration system consists of a compressor and two copper or aluminum coils (one indoors and one outside), which have aluminum fins to aid heat transfer. In heating mode, liquid refrigerant in the outside coil removes heat from the air and evaporates into a gas. The indoor coil releases heat from the refrigerant as it condenses back into a liquid. A reversing valve, near the compressor, can change the direction of the refrigerant flow for cooling mode as well as for defrosting the outdoor coil in winter.
The efficiency and performance of today's air-source heat pumps is a result of technical advances such as the following:
Thermostatic expansion valves for more precise control of the refrigerant flow to the indoor coil
Variable speed blowers, which are more efficient and can compensate for some of the adverse effects of restricted ducts, dirty filters, and dirty coils
Improved coil design
Improved electric motor and two-speed compressor designs
Copper tubing, grooved inside to increase surface area.
What Do HSPF and SEER Mean when it comes to energy savings?
When starting to shop for your new heat pump you should pay close attention to the HSPF and SEER efficiency ratings. Energy efficiency should be one of the main factors when making your selection since the higher the efficiency level of your new heat pump, the more money you will save on energy bills.
There should be two terms you should be aware when it comes to energy efficiency ratings. The Seasonal Energy Efficiency Ratio (SEER) measures cooling efficiency over the cooling season, while the Heating Seasonal Performance Factor (HSPF) measures heating efficiency over the heating season. The higher the number value, the higher the energy efficiency.
HSPF and SEER
The HSPF is calculated by taking the total heating required during the heating season, in British thermal units (BTUs), and dividing it by the total electricity consumed during the same time period. Similarly, SEER is the total amount of cooling by an air conditioner during the cooling season, divided by the total electricity consumed during that same time span.
In the United States, for a system to be granted an Energy Star level, the SEER has to exceed 14.5. For ideal cooling efficiency look for SEER ratings of 15-20 for federal and Xcel Energy rebates. The average HSPF on the market for a split-system air-source heat pump is 8, with Energy Star models exceeding HSPF 9+
Which Rating Is More Important?
It depends on which season, heating or cooling is the most expensive for a homeowner. If you live in a cold winter area with mild summers, heating efficiency, or HSPF, will be the more important rating for your new heat pump. If you live in a climate, with a very mild winter, SEER should grab your full attention. In Colorado, with cold winters and hot summers, it is probably wise to consider both efficiency ratings.
Heat Pump Pros and Cons
The heat produced by heat pumps isn't as intense as the heat produced by a gas furnace. People who are used to traditional furnaces can be uncomfortable with the milder heat produced by these systems. Other people prefer the warmth produced by heat pumps, because heat pumps distribute heat evenly throughout the house, meaning this can help with hot and cold spots. A heat pump will also turn on and off less often than a gas furnace, and most systems have eliminated the blowing of cold air through the vents that used to occur when the system temporarily switched into reverse to defrost the coils. Also keep in mind you will still need backup heat.
ASHPs can cost more upfront than other conventional HVAC technologies
The cost of installing air source heat pumps depends on several factors, including equipment quality, installation complexity, the type of system (ducted vs. ductless), and your home's size and layout. Including both equipment and labor, central air source heat pump system installations typically cost between $12,000 and $30,000, while ductless systems cost around $4,500 to $8,000 for each indoor unit installed. An 80% Gas furnaces on the other hand typically cost less than $6,000 to install.
Increased electric bills
While air-source heat pumps use less energy and can help many property owners save on heating bills, this isn't true for everyone. Remember, air source heat pumps require electricity to operate. This means that, even if you use less energy overall to heat your home with air source heat pumps, you may spend more money on utility bills overall if the cost of electricity in your area is significantly higher than the cost of the fuel, you'd otherwise heat your home with. Notably, air source heat pumps will likely save you money if you run your home on propane, but you may initially spend more money heating your home with air source heat pumps if you'd otherwise use natural gas.
These are some other factors to consider when choosing and installing air-source heat pumps:
Select a heat pump with a demand-defrost control. This will minimize the defrost cycles, thereby reducing supplementary and heat pump energy use.
Fans and compressors make noise. Locate the outdoor unit away from windows and adjacent buildings and select a heat pump with a lower outdoor sound rating (decibels). You can also reduce this noise by considering a 2-stage heat pump (call for details)
The location of the outdoor unit may affect its efficiency. Outdoor units should be protected from high winds, which can cause defrosting problems. You can strategically place a bush or a fence upwind of the coils to block the unit from high winds.
Serving Highland Ranch, Englewood, and surrounding areas
Heat Pump Repair, Heat Pump Replacement & Heat Pump Installation

Highlands Ranch, CO, Littleton, CO, Centennial, CO & Englewood, CO
HVAC Services in Englewood, CO | Heat Pump Replacement Littleton, CO
Residential HVAC

∴

HVAC Services ∴ Centennial, CO ∴ Littleton, CO ∴ Englewood, CO