We Provide Immediate Quality Service
Gustafson Heating & Air Conditioning
It's never a convenient time to have HVAC issues. At Gustafson Heating & Air Conditioning we're available 24/7 for emergency services. If your heating and cooling system breaks down on a holiday, in the middle of the night, or any other time, we've got you covered. Call (303) 900-4054 for immediate service.
Ask us about how to qualify for a $2,000 tax credit for a heat pump- Learn More

We go above and beyond.
With dedicated service, top quality products, and superior job performance, we achieve your goals for comfort, convenience, and cost savings. As a small company, Gustafson Heating & Air Conditioning focuses on your individual requirements and goals. You are never reduced to a number on an invoice, and every job is an opportunity for us to improve your everyday life. Through dedicated service, top quality products, and superior job performance, we answer your goals for comfort, convenience, and cost savings. Our NATE-certified team handles new installation, retrofit, seasonal maintenance, and repair of heating & cooling systems, indoor air quality accessories, and both conventional and tankless water heaters.
A Breath of Fresh Air
Efficient Heating & Cooling Services in Highland Ranch, Englewood, and surrounding areas
Gustafson Heating & Air Conditioning repairs and maintains all makes and models of equipment, and recommends only those options with proven histories of reliability.  Serving Highland Ranch, Englewood, and surrounding areas, since 1971, we complete every stage of the job, leaving no detail overlooked or undone.  Family owned and operated, the name of our business stands for honesty and integrity.
Referral subheading
Referral rewards
As a Rheem Pro Partner, we are dedicated to helping you learn about all the most advanced and most efficient HVAC systems available on the market. If you simply need repairs and maintenance, we'll have your HVAC equipment working up to speed before you know it. If your HVAC equipment is becoming very old and breaks down a lot, we'll give you our professional opinion on whether you need a new replacement or not. When you do choose to go for a new replacement, we'll help you find highly efficient options which will qualify you for tax credits, so you can have money back in your pocket. We'll also give you $1,000 credit towards your new system replacement when you trade in your old furnace or AC system. Not only that, but with a new AC or furnace installation, you'll also receive a free smart thermostat and humidifier!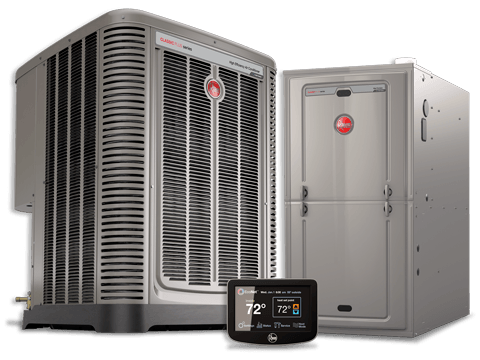 We service all brands.
For all your HVAC repairs, maintenance, and installations, call Gustafson Heating & Air Conditioning!
Give us a call at (303) 900-4054, and we'll get the job done right the first time, on time.  At Gustafson Heating & Air Conditioning, we take the extra steps to deliver greater value for your investment and stand behind our work with a 100% Unconditional Satisfaction Guarantee.
1. We strive to reflect our values in the way we work.
2. We believe service is not a department but a way of life.
3. We are privileged to serve our customers.
4. We are committed to helping our employees move towards their full potential.
5. Doing great work alone is not enough.
6. For us, it is about doing an exceptional job in a way that honors everyone involved.
I just had my furnace, hot water heater and A/C replaced. I was nervous to make a decision on which company to trust for such large purchases and work. From start to finish, I felt the most comfortable with Mike the salesperson and then the team who did the work today. They were all efficient, gave clear explanations about the work they did and extremely courteous. I'm relieved that the experience was such a positive one. I feel I received high quality work with very skilled technicians at a very fair price. Thank you so much and I will be happy to ever be a reference for you.
Snow was blocking an exhaust vent outside on Sunday night/early Monday. My furnace shut off. I called this HVAC company, who did work here about 5 years ago. A super professional man came through bad streets and tons of snow and fixed the issue within hours of my call. Great customer service. I highly recommend this company!
Used them for AC install, great pricing and quality. Also contacted them for furnace issues with producing enough heat and cycling too often. Instead of a service call they suggested I inspect my HVAC filter, they informed me that some furnaces have issues with high efficiency filters (MERV 13). After I put the old filter back in all functioning as designed. Highly recommend Gustafson HVAC.
First rate quality service, fair and reasonable pricing, very professional. We had received 3 other bids and Gustafson was by far the most reasonable and responsive team. Mike supervised the team the whole time. Group of install guys were fantastic. Cleaned up everything, walked me thru operations of new furnace and air conditioner. Arrived on time, installed both furnace and air conditioning unit in about 6hrs. A+ recommendation and will have our business in the years to come.
Highly recommend Gustafson. Mike came out and provided a detailed estimate and scope of work. Their crew showed up on time and they were very careful to not to make a mess. Tarps were put down to ensure everything was kept clean. Install went great, and I couldn't be more pleased with the workmanship. You can't go wrong doing business with Gustafson!
I cannot recommend this HVAC company enough. They responded promptly to my initial request. Answered all my questions throughout the process. Had the most reasonably priced options out of three companies we called for estimates, as well as provided more service for that reasonable price. They were on time for installation, did a great job of installing and keeping the area clean. We had new furnace and AC system installed. On top of it-the new system works great and is quite. We are very happy!
They were scheduled to come out in 5 days to fix the AC in our new house we had just moved into. My mother in law that lives with us is going through chemo and the heat was making it even more difficult for her. They came out the next morning and fixed our issue. The technician was really nice and sincere. I would recommend them to anyone
Robert Gomez performs the highest quality job that I have ever received for HVAC. I'm extremely pleased with the service and will be using Gustafson going forward. Robert is extremely knowledgeable and is detail oriented. Absolutely 5 star as he goes above and beyond. Highly recommended for quality service. Thanks!
I had the whole HVAC system installed by Gustafson about three years ago and recently requested maintenance on the system. Technician Robert Gomez was the tech that responded and he was very personable, easy to talk to, and explained what he was doing to me to service my furnace. I felt like I received thorough service and he provided advice for the future as well. Thank you, Robert!! I hope to be able to request you again in the future to do maintenance on my AC next spring.
We had a new a/c and furnace installed this spring by Gustafson. They were able to come and give us an estimate within a couple days. We got scheduled for the install within a week. They were on time the day of the appointment and made sure everything was done perfectly and there was no mess. When they were here to do the install, we decided to have the hot water heater replaced. They noticed that the main shut off for the water was leaking in the crawlspace, so had them do that too. They got that done the following day. The price was a lot less than the other estimates obtained. They are an approved vendor with Excel and they completed all the paperwork for the rebate. Happy we went with them and no regrets. Highly recommend them.